Events
---
Qi Gong for Grounding, Vitality & Longevity
Mon, Wed & Fri @ 8:30-9am EST  ~ 12 class sessions~ scheduled ongoingly
Zoom classes $75 for classes and videos

Qigong

 is an energy medicine system, based on the same system used in acupuncture, from ancient China. It involves simple, easy, playful movements that powerfully enhance our overall health, including our immune function. 

Qi

 

Gong

 is appropriate for almost anybody, that is, it's powerful without being strenuous. Classes will focus on a 

Qigong

practice that is grounding to the nervous system, increases vitality, and enhances longevity. 

Robin is a YOQI Associate Qigong Flow Instructor.
To register, email Robin at rdcarnes@gmail.com -she will email you payment methods, when payment is received, zoom link will be emailed.
Secrets of InterPlay Workshop – October 21-23 in Takoma Park, MD. – In Person with COVID Precautions
Unlock the Wisdom of Your Body
Kate Amoss
, 
Robin Carnes
, and 
Monisha Mittal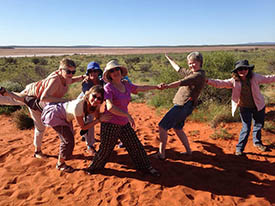 Washington, DC
October 21-23, 2021
Thursday-Saturday
Learn how you can use the tools and ideas of InterPlay to unlock the wisdom of your body. Get your body, mind, heart, and spirit all on the same page. Learn about yourself through connection and community. Create more ease and fun in your life.
This multiple-day event will give you direct experience in many aspects of the InterPlay system. It is also an important element of the InterPlay Life Practice Program which we will be offering in Washington, DC, starting in January 2021, as a follow up to this Secrets of InterPlay event.
Schedule (all times ET)
Thursday 7pm – 9:15pm
Friday 10am – 5:00pm and 7pm – 9:15pm
Saturday 10am – 5pm
Covid Policy: Vaccinations are required. We will be requiring masking for some of the forms. The room is large and will have two air circulators.
Inquiry for housing: Kate at katamoss@gmail.com
Repeating the Program
Anyone who has previously completed the Secrets of InterPlay is eligible for the $300 repeaters rate.
Financial Assistance
Diversity is a great gift in the InterPlay experience. Based on our commitment to Racial Equity and Transformation (read our statement here) and our understanding of other structural and personal inequalities that exist, Body Wisdom is committed to making our programs financially accessible.
Financial considerations need not be a barrier to your participation. Financial support and flexible payment plans are available. Please email info@interplay.org (or call 510/465-2797), or feel free to speak to one of the leaders of this program.
Continuing Education Credit
Up to 55 CE credits (15 for Secrets weekend & 40 for LP follow up sessions) for various healthcare and allied healthcare professions are available for those practicing throughout the U.S. and for educators only practicing in Illinois. CE pre-registration is required before the start of your event.
Email Jane at interplaychicago@sbcglobal.net to APPLY for CEUs. There is a charge of $25-$40 per program. CEUs are offered through Continuing Education Institute of Illinois or R. Cassidy Seminars. 
Cost:

 $400 ($300 for repeaters) Cost included in full Life Practice Program tuition
Registration/Information:

 Registration Questions: email Lucia@interplay.org. For financial assistance: email info@interplay.org

Venue
Seekers Church
276 Carroll St. NW
Washington, DC 20012